Feeling the Yin and the Yang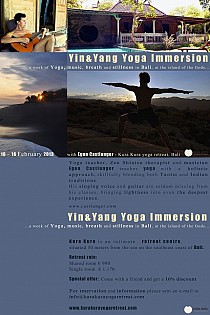 23
JAN
One of my greatest joys during my Yin Yoga teacher training with Paul and Suzee Grilley last February 2012, aside from the immense growth & learning from Paul, was meeting some of the most wonderful yogis and yoga teachers from all over the world. My kirtan buddy, Egon Castlunger, has a special place in my heart. I love his wide open smile that simply reflects the openness of his heart and his spirit. Egon is a true Bhakti yogi and I adore his passion for kirtan, singing his joy and love for mantra and the yogic teachings, through melody and musicality. The nights we spent singing kirtan as a group were some of the most memorable. So I am so pleased to give over my blog to Egon so he can share his upcoming Yin & Yang Yoga Immersion this coming 10-16 February 2013, at the Kura Kura Yoga Retreat Centre in Bali.†
Here is Egon's love letter for all yogis out there!
Namaste Yogis.†
Last November I had the chance to take some days off before starting my two week retreat on the north shore of Bali. A good friend and yoga teacher suggested I stay at Kura Kura, a simple and familiar resort on the south coast. So I did, and very soon I fell in love with the location. Very quiet, surrounded by greenery, with the ocean close by--these were all points that made me like the place instantly. It seemed to be the perfect place to spend the first few days in Bali, relaxing and restoring from jet lag.
During a conversation with the owner, I mentioned my next visit to Asia in January 2013. Why not come down to teach a week retreat in Bali after you're finished with your Yin Yoga training in Koh Samui, the owner suggested? Great idea, I thought, lets do it!
The basic idea we came up with is a week of integral yoga where we practice in a Yin as well as in a Yang style, completing the practices with pranayama and meditation. What I often miss in yoga classes is a certain lightness, celebration and heart opening side. Many teachers focus very strongly on Asana. In this retreat we will, in this sense as well, dive into the Bhakti side of yoga, singing mantras and kirtan.
So, fundamentally, during the 6 days immersion we will connect with our essence, which contains the search for growth and expansion, and at the same time we give expression to our inner child who wants to play and sing in the company of fellow yogis.
We will be a small, familiar group of maximum 12 yogis. This size will allow us to work more closely and deeply. During the week we will go to the water temple Tirta Empul with our Balinese healer Dewa. He will accompany us for a special ceremony. On Valentine's day we will learn how to make an offering for our beloved ones at the beach. In between the yoga sessions you have enough time to experience the beautiful surroundings and get acquainted with the Balinese people and their spiritual way of life. Part of the program will be visits to the temple and massages. Enjoying the simple and healthy food, prepared with love. All this will make the week unforgettable.
I am really excited about the retreat and looking forward to it!
thanks for your support.
love,
egon
A little bit about Egon: He grew up in a small South Tyrolean mountain village in the Dolomite Alps (Northern Italy). Early on, he set out to explore nature and spent most of his youth on a snowboard and on mountain hikes.†Due to a shoulder injury he got to know an holistic healing doctor in Australia, who drew Egonís attention to the inner, spiritual world. After extended travels through South America, India and Nepal, Egon eventually decided to leave the familyís tourism business. He committed to a four-year education in order to become a certified Zen Shiatsu therapist and naturopath. It was at the same time, that Egon started practicing Yoga on a regular basis. In 2009, he completed his first Hatha yoga teacher training in India. On his yogic path, Egon has been much inspired by Anusara yoga. He is currently diving deeper into his Yin yoga and Pranayama practice. Devotional chanting - Bhakti yoga - is playing an increasingly important role in his life.†Furthermore, Egon organizes and leads retreats, which combine yoga and outdoor experiences.† Egonís profound medical knowledge and the experience as a physical therapist shape and inform his style of teaching. His passion for music, especially the guitar, is authentically reflected and incorporated into his classes. Egon teaches in German and English. †(For more information please see† www.castlunger.com)
†
†
Facebook Conversations